Thought of The Day : Piracy, License, and Copyright
I always thought about this, when i used (yeah, used. You don't think i make all the drawing of my LWP's by myself right?) someone artwork as my LWP apps.
Piracy Stuff, from Copyright.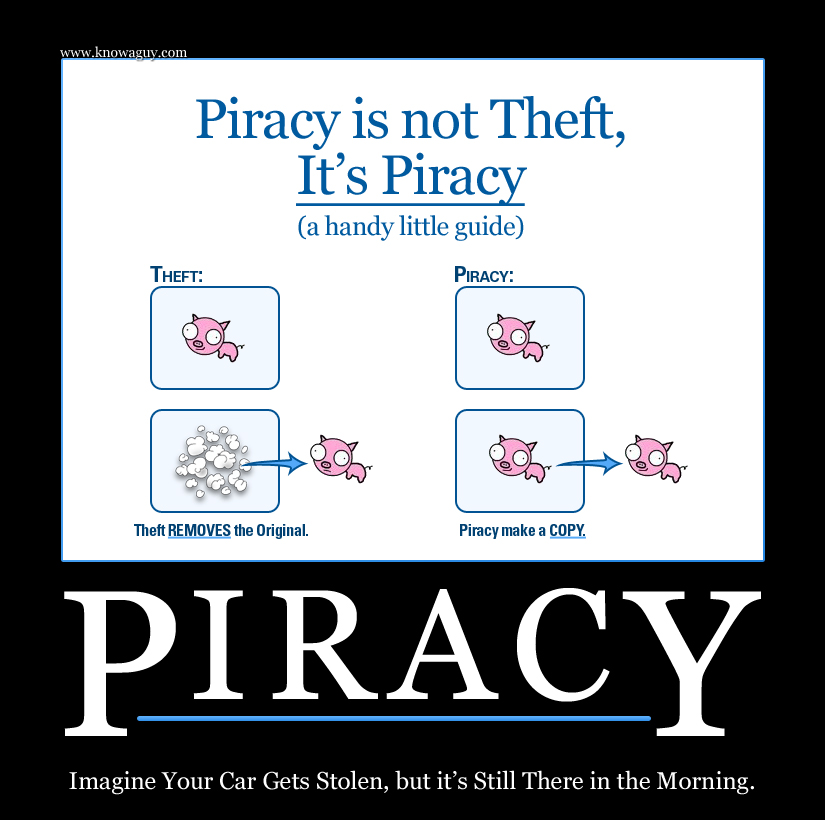 Okay i admit it, i never, ever spend my time to ask permission of the 'owner' of the Art. Why i used 'owner' with 'xxx'?? Because, seriously, is the one that draw One Piece, My Little Pony, (or another masterpiece series) Fan Art have his/her Right to claim that art is him/hers??
COME ON, MAN! I know you don't event ask permission to the Mangaka or the Original Creator! You thought it's not a big deal too isn't it?
Make a Fan Art, Fan Fic, for the said series, and posted it in the internet to gain fame, respect, or appreciation (maybe some of it will rise the Original Mangaka's/Creator's Reputation, because more Fan Art = More Fame) BUT please don't get Mad & All Rage when someone USED it without your permission. If you make a Fan Art, and uploaded it in the internet, that mean it's FREE FOR USE BY ALL THE FANS! Not just YOURS. Don't be such a jerk.
SO COME ON man! The series don't even YOURS to begin with! What is your problem??
And EVEN IF, said, it's your Original Series/Artwork that you worked really hard for it. BUT, do you REALLY don't have ANY of other PIRACY STUFF in your LIFE?!
Are your Windows even Original Licensed? How about your Photoshop? Your Paintool SAI? Your IDM? Your (insert Software Name here)?  Your PC Game? Movie? Have you copied/Scanned a Book? Read ebook?
Okay if you have ALL of your software Original Licensed (or at least Free/Open Source), you have my admiration. But seriously, it's really NOT POSSIBLE in this day of age, someone is really really that PURE, that he never ever do Piracy Stuff in his/her WHOLE life. Even someone that really Anty-Piracy, but still connected with Internet, will have Piracy Stuff in his LIFE.
Most of Artist is also Otakus that love to watch Anime, Movie, or Playing Game. How you Obtain your Weekly Anime Show? Animetake.com? Ganool.com? Download from Sharing Site (usually .rar WITH crack/serials)? Streaming? or even used the Number One Piracy Software, uTorrent?
Do you can Promise me you don't even use that kind of thing even ONCE in your life?
Do you know KARMA? No, i'm not saying i'm a Karma Bringer for your stuff. I'm not God's Right Hand or anything, i'm just being me, myself, because this is just how today society works. No one have any right to blame me if i used their Fan Art Works for my apps. (and why are you not happy? because i'll make your artwork cooler, as an android apps, and your art will SPREAD to entire world!) Because i obtained it from the internet FOR FREE, and i make FREE APPS too. From The Fans, to The Fans, right?
If you can't Buy it, if you can't get License or Copyright it, Piracy it!
Admit it, Most of people, especially internet user, ever thought like that. But of course 'Big Guy' won't think like that. Or because society force him to. It's a shame if Big Company that want to make Big Stuff, using Piracy stuff… Of course they don't have any rights to claim if their 'Big Stuff' got pirated too.
But you know, me, and maybe all of my friend, really thanks to this Piracy stuff. Come on, do you really want to spends all Blue Ray 1080p even if you can get it for Free? (if you say YES, i will ask you again. If you're that Rich, why there's still ANY Piracy stuff in your Computer, dude?! Get a Life, Bro!)
And Piracy Stuff makes many people can 'learn' about stuff that normally need a lot of money. Like Digital Tutor, Lynda.com, Gnomon, many Pirated Stuff about these. So Piracy Stuff make people Smarter, and Productive. (if there's no Piracy Stuff, what'll this world become?!) But of course there will be a side back too, you don't have any rights to claim your work is yours alone. YOUR WORKS IS FOR ALL OF HUMANITY SAKE.
You know nigahiga and Pewdiepie? I'm a big fan of them. They make 'free stuff', a video, but of course they got money, and i said REALLY HUGE AMOUNT OF MONEY, from their youtube account ads. (and for selling their other 'stuff') Their subscriber is more than 10 millions! And yesterday, Pewdiepie got his Guidess Book Record for the First Channel that has Many Subscribers! Congrats broooo, you really deserved it! *Brofist* Because ANY not-so-interesting game, suddenly got AWESOME when i watched you played it. You really makes my day! haha… And thanks for Ryan Higa too, or nigahiga, your video is AWESOME. I'm a newbie film maker too, really love your works, you're my inspiration to keep moving forward. I hope you all will be have fun with your youtube, and got MORE SUBSCRIBER :D
Back to piracy stuff. You know, Today Anime Show is NOT DIRECTLY for selling the Blue Ray/Animation Itself. Anime is only 'Market Place' to sell the Show's Good Stuff Afterwards (and today many of a Company used Anime to Advertising their Product, like Drink etc). Like Nendroid, Poster, Figure, Cosplay Cloth, Etc. This stuff not only make the maker Rich, but many people got part for this too for selling the Stuff. Of course Big Guy like Good Smile Company, Bandai, will need to pay to have their Permission/Copyright Stuff. But small guy like us or another Fan Art Artist, doujin, cosplayer, doesn't need that, because we made it for ALL THE FANS, not for ourself. (of course that is one of my reason too for keep making apps for free. I want all of the fans to have and tried it. but of course i have ads in my apps, because like nigahiga or pewdiepie too, i have a life, i need to buy stuff too, even if my apps revenue is not that big. if you like my apps, please don't get annoyed with a couple of ads. The ads is there for keep me making good stuff for you)
And my last words, Piracy Addicted is Back to the User's Heart (and money). If you are Rich, why pirated stuff from small guy? If you got your Fan Art Copyright for Free, why you have big deal to Creative Common License or whatsoever? If you think piracy is good or wrong, the Path is your choice. Just start from yourself. (but still, Fans Art/Fic/Stuff is for Fans. If you want something from it, Make it 'Free with Ads' to your website, adfly, or something, be creative. Or at least it'll be a medium to sharpened your skill to do your 'real work').
Okay, that's it! Woah… this post is longer than i thought haha…
Anyway, 12 October 2013 i'll be playing Pokemon X too (i'll played Original for this, because i need the Online Feature XD), i just bought my 3DS XL just for this Game, and Sonic Last World. And, i will use Gateway for my Sonic Game :>
xixixi